KPO  ( Knowledge Process Outsourcing )
Prokorp Management Consultants Pvt Ltd., outsourcing functions related to knowledge and information are outsourced to third party service providers.. KPO refers to the assignment or transfer of knowledge plus information related process to another organisation. The organisation may be a different entity or the subsidiary of the main organisation that can be located in the same country or overseas to minimise cost.
Prokorp Management Consultants Pvt Ltd., perform high-level tasks for which highly skilled personnel are required. It is an extended version of BPO. Low-level decisions can also be taken by these firms. It requires in-depth knowledge, domain expertise, judgement and interpretation power of the workers, who are capable of applying their knowledge because the work entails decision making on specific issues.
The spectrum of services provided by KPO includes:
Investment research services
Market research services
Data analytics
Business research services
Others: Legal Process Outsourcing, Financial Process Outsourcing, Media Process Outsourcing.
1.LPO  ( Legal  Process Outsourcing )
LPO now includes a huge range of legal processes, such as patent application drafting, legal research, pre-litigation documentation, advising clients, writing software licensing agreements and drafting distribution agreements
As in the case management consultancy or engineering consultancy service, any consultancy, advice or technical assistance provided in any discipline of law is proposed to be subjected to service tax. However, the tax would be limited to services provided by a business entity to another business entity. It has been defined that a business entity includes firms, associates, enterprises, companies etc. but does not include an individual. Thus, services provided by an individual advocate either to an individual or even to a business entity would be outside the scope of the taxable service. Similiary, the services provided by a corporate legal firm to an individual would also be outside the purview of taxable service. Any service of appearance before any court of law or any statutory authority would also be kept outside this levy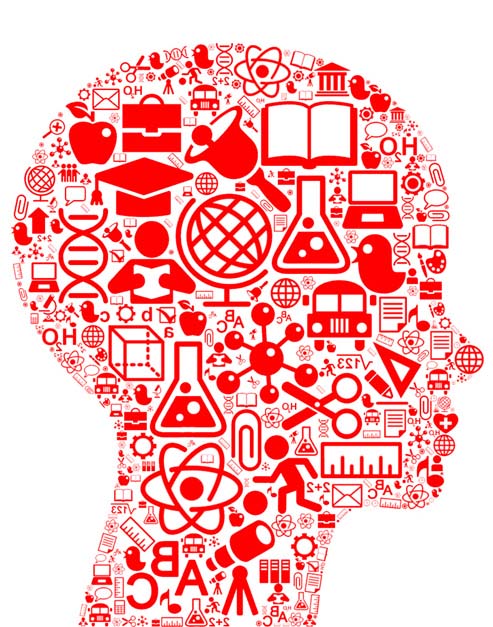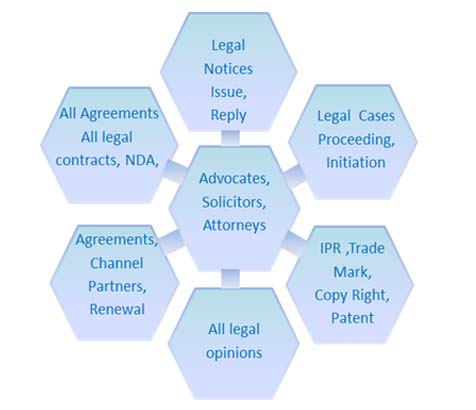 2.FPO (Financial Process Outsourcing)
a) Back Office Services
The back office is the portion of a company made up of administration and support personnel who are not client-facing. People who hold jobs in back office positions carry out functions such as settlements, clearances, record maintenance, regulatory compliance, accounting and IT services.
b) Accounts Payable
Accounts payable are amounts a company owes because it purchased goods or services on credit from a supplier or vendor
c)Accounts Receivable
 Accounts receivable are amounts a company has a right to collect because it sold goods or services on credit to a customer.
d)Credit Monitoring  approval
Credit Monitoring  approval is the process a business or an individual must go through to become eligible for a loan or to pay for goods and services over an extended period. It also refers to the process businesses or lenders undertake when evaluating a request for credit. Granting credit approval depends on the willingness of the creditor to lend money in the current economy and that same lender's assessment of the ability and willingness of the borrower to return the money or pay for the goods obtained—plus interest—in a timely fashion. Typically, small businesses must seek credit approval to obtain funds from lenders, investors, and vendors, and also grant credit approval to their customers.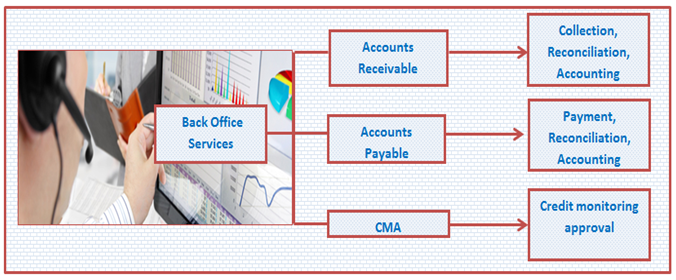 BPO  ( Business Process Outsourcing )
Prokorp Management Consultants Pvt Ltd., Provides outsourcing of non-primary activities of the organization to an external organization to minimize cost and increase efficiency. Such as
On-shore BPO: The outsourcing of business activities to another company but in the same country.
Near-shore BPO: The outsourcing of business activities to the company located in the nearby country.
Off-shore BPO: The outsourcing of business activities to the company located overseas.
A BPO is capable of handling both front end and back end operations of an entity
BPO provides an array of services such as:
Customer care, i.e. call center, help desk, etc.
Human resources, i.e. recruitment and selection, training and placement, payroll processing, etc.
Technical support
Services related to finance and accounting.
Website services, i.e. web hosting, etc.
Transcription
1.Payroll Services
A payroll is a company's list of its employees, but the term is commonly used to refer to: the total amount of money that a company pays to its employees. a company's records of its employees' salaries and wages, bonuses, and withheld taxes. the company's department that calculates and pays these.
Handling payroll typically involves sending out payslips to employees. A payroll is a company's list of its employees, but the term is commonly used to refer to: the total amount of money that a company pays to its employees. a company's records of its employees' salaries and wages, bonuses, and withheld taxes. Payroll involves performing many tasks to ensure accurate and timely paychecks and payroll tax and record-keeping compliance.
Make changes to the employee&employers payroll record, if applicable. This includes: address changes; payroll deduction changes, such as W-4 and state income tax form changes; and voluntary deduction changes, such as retirement and health benefits. Furthermore, enter new hire information for employees hired in the current pay period.
Pay other types of income, such as bonuses, commissions and retroactive pay due to a pay raise. Perform other adjustments, such as additional pay or wage deduction due underpayment or overpayment from a prior pay period.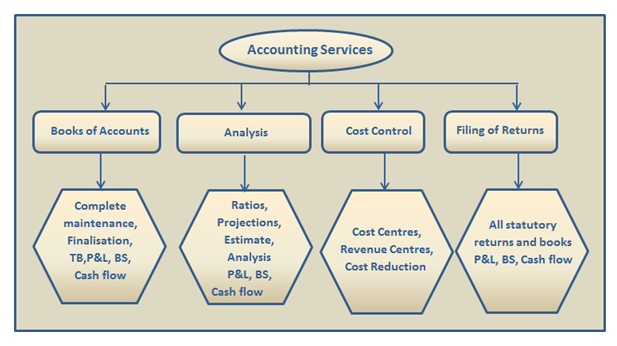 3.Auditing Services
1.Auditing
Possibly one of the most important functions of a Chartered Accountant, it is here that his specialised training, skill and judgment are most often called into play. The purpose of auditing is to satisfy the users of financial statements that the accounts presented to them are drawn up on correct accounting principles and that they represent a true and fair view of the state of affairs of the organisation.
2.Taxation
With a number of taxes on the statute book, current and continuing tax information has become vital to the effective economics of business management. The assessment of taxes is very closely linked with financial accounts. The Chartered Accountant with his experience in accounts is in an advantageous position for preparing the returns for tax purposes, representing assesses before the Income-Tax authorities and rendering general advice on taxes to his clients. An additional responsibility placed on him recently is that his services will be required by the tax department for auditing complicated cases, having large revenue potential. The requirement under the Income-Tax law for compulsory maintenance of accounts by the specified categories of taxpayers would also make a demand on his time and services
Other Services:
Developing management information system.
Designing budgetary and control system.
Determining measures of the effective utilization of capital.
Installing cost accounting system.
Assisting the management in the efficient use of working capital as an aid to improve productivity
Advising management on principles of organisation and methods for effective delegation and planning of work.
Rendering advice on international taxation matters, foreign collaborations, joint ventures, double taxation agreements etc.,
Reviewing procedures and equipment for operational control.
Review of financial planning and policies for effective utilisation of resources.
Rendering secretarial services and advice on Corporate Law matters.
Advising management on amalgamations, reconstructions, takeovers and expansion schemes.
Assist in the preparation of feasibility studies of new project and expansion schemes.
Advise on the system analysis and design, including selection of hard work and development of software and feasibility of incorporating computer applications for accounting and commercial activities.
Assist in finding solutions for specific business problems such as product mix decisions, pricing decisions, making representation to Government on various matters etc.
Appraisal of personnel policies and practices.
Assist in the selection of executive personnel in the areas of production, marketing, accounts, data processing, personnel, general administration etc.
Acting as advisor or consultant to an issue, including such matters as drafting of prospectus and memorandum containing salient features of prospectus, preparation of publicity budget etc.
Acting investment counselor in respect of securities.
Acting as registrar to an issue and for transfer of shares/other securities.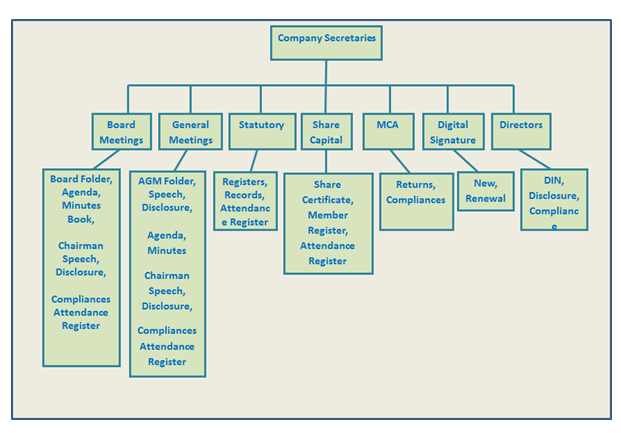 5.Human Resource Outsourcing/Man power supply
HRO stands for Human Resource Outsourcing. HR is getting outsourced to third party providers who can bring in the benefits of knowing the domain.
HR as an activity, it comprises of a group of activities, which include payroll management, training, staffing, , retirement and benefits planning,  etc.
RPO also stands for Recruitment Process Outsourcing. RPO is a key component of Human Resource Outsourcing (HRO). The RPO team basically handles all the recruitment.
| | | |
| --- | --- | --- |
| System Services | System Implementation | Business Requirement Gathering, GAP analysis, Solution Design, System Testing, Data Migration, Project Close out. |
|   | Data Analysis | Reconciliation with various sub ledgers and main ledger through system control, Data accuracy certification, Data security etc., |
|   | System Control | Ensuring Controls in the system, |
|   | System Audit | System Audit |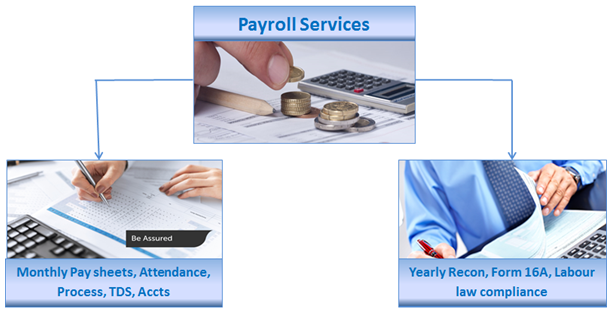 2.Accounting Services:
Accountancy services means services requiring accountancy or related skills performed by a member of a professional accounting body including accounting, assurance, financial management services, insolvency services, investment advice, management consulting and taxation.
Book of accounts.
Book of account is the place where all financial information for a person or business is collected. Examples of books of original entries are as follows: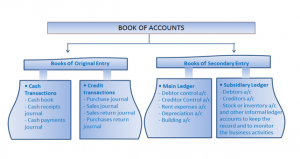 1.Analysis
Accounting analysis, also referred as financial analysis or financial statement analysis, can be explained as an assessment of the stability, viability, and profitability of a business, sub-business, or project. A financial analysis is carried out by professionals who prepare reports through the use of info obtained from financial statements and other reports. Besides, one key area of financial analysis is the extrapolation of company's past performance into an estimate of its future performance.accounting analysis is one of the most common techniques for accounting analysis is calculating ratios from the data to compare with those of other companies or with the past performance of the company. For instance, retur on assets is a common ratio which is used for determining the efficiency of a company at utilization of its assets as well as a measure of its profitability.
2.Cost control 
Cost control is the practice of identifying and reducing business expenses to increase profits, and it starts with the budgeting process. A business owner compares actual results to the budget expectations, and if actual costs are higher than planned, management takes action.
3.Filing of tax Return
A tax return is the tax form or forms used to report income and file income taxes with tax authorities such as the Internal Revenue Service (IRS) in the United States. Tax returns allow taxpayers to calculate their tax liability and remit payments or request refunds, as the case may be.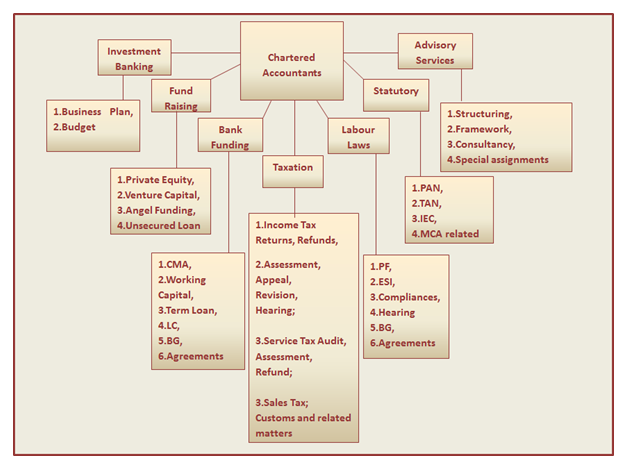 4.The Company Secretarial Services
Incorporation of Private and Public companies, limited by shares or guarantee, unlimited companies , their conversions and re-conversions.
Alterations, modifications and changes with respect to the names of companies, objects, share capital, situation of registered office, amendments and alterations in the Memorandum and Articles of Association.
Allotment, consolidation/sub-division of shares, share transfer and transmission, conversion of shares into stocks or warrants, issue of shares certificates, dematerialization of shares, forfeiture of shares etc.
Changes with respect to appointment, re-appointment, regularization, resignations, fixation and revisions of the remunerations of Directors, Managers, Company Secretary, Compliance officer, secretary in whole time practice, auditors, cost auditors, sole selling agents etc.
Procedures relating to Board Meetings, General meetings including the pre and post meeting formalities such as notice for the meetings, preparing resolutions etc.
Procedural compliances with respect to the induction and expulsion of members, variation in membership rights.
Preparation of annual reports and annual accounts including Balance Sheet, Profit and loss account, income and expenditure statement, auditors report, directors' report, statement on corporate governance, compliance certificate, directors, chairman's statement etc.
Procedural requirements for creation, modification and satisfaction of charges and registration thereof by the Registrar of Companies.
Invitation, acceptance and renewal of public deposits, repayment of deposits and payment of interest.
Procedure for ascertainment, declaration and payment of interim and final dividend; management of unpaid and unclaimed dividend.
Maintenance of statutory books and registers as per the provisions of the Companies Act, 1956.
Procedures and compliances related to making inter-company loans, investments, guarantees, and providing of securities.
Filing of the documents including the forms and the returns with the Registrar of Companies.
Registration of the documents with the Registrar of companies.
Drafting of the company documents including memorandum of Association, Articles of Association, agreements, allotment letter, contract of appointments, share certificates, debentures/bond certificates, proxies, dividend/interest/redemption warrants, fixed deposit receipts, share transfer documents, documents in relation to public offerings and listing, notices, resolutions and minutes of meetings.